Among the various segments in which it operates, Xiaomi continues to invest heavily in the electric bicycle / scooter segment. Its latest addition, the Himo H1, is especially surprising for its shape and folding. When fully folded, it is about the same size as an A3 sheet of paper!
Regarding its design, it is quite peculiar, leaving even many doubts as to the possible absence of comfort. Their folding mechanisms even resemble the popular Transformers, which are curiously represented on some models.
Folding the Himo H1 feels like a real magic trick!
While it may not be today's most comfortable bike or scooter, it is certainly one of the most portable. When folded, the Xiaomi Himo H1 is 45.6 cm long, 32 cm wide and only 22.7 cm high. Also, weighing only 13 kg, it will not be a big problem to be able to transport it from side to side.
In order to achieve such a compact shape, the Himo H1 has several folding points, which are securely reinforced with a locking system that ensures they remain in the desired position.
To fold this electric bike, you will need to fold the frame, the wheels, the seat (twice) and the handlebar (twice). The user mechanisms are designed so that this whole process is performed as quickly as possible with the least effort.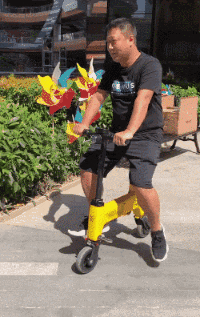 Xiaomi Himo H1 is far from ideal for extended use
As far as its specs are concerned, this electric bike is far from being a "power monster", quite the opposite. It comes equipped with a modest 180W battery, which allows it to reach a top speed of 18 km/h. In terms of autonomy, you can count on only 20 km, which will limit its use time.
In addition, its peculiar shape seems to make it not the most comfortable electric bike ever. Their very small wheels and absence of suspension certainly make travelling on uneven surfaces a real torture.
There is also a small detail that makes it difficult to consider the Humo H1 a bike as it has no pedals. Instead, it features small footrests, which also don't seem to be the most comfortable for longer trips.